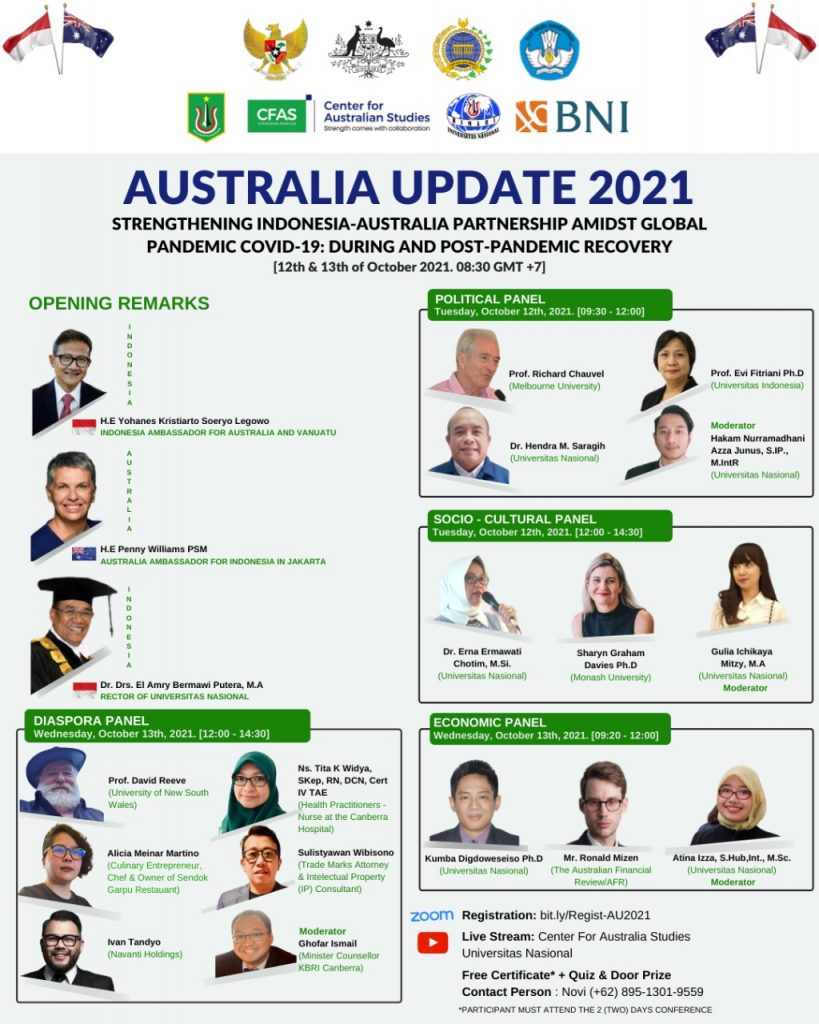 The friendly relationship that has existed between Australia and Indonesia for more than 70 years continues to be improved over time. This good relationship is achieved through bilateral relations in politics, economy, and social relations. The current development of Indonesia-Australia relations has "never been better than before". The partnership between the two countries was further enhanced when President Jokowi and PM Scott Morrison declared an increase in bilateral relations between the two countries through the Indonesia-Australia Compressive Economic Partnership (IA-CEPA) agreement.
Although the relationship between the two countries is very close, the gap in perception and understanding between the society of the two countries still exists. in an effort to minimize these differences in perceptions and views, it is necessary to increase public awareness directly.
Therefore, we invite academics, practitioners, and the public to attend and have further discussions with experts. The Australia Update 2021 event with the theme "Strengthening the Indonesia-Australia Partnership in Facing the Global Covid-19 Pandemic: During and Post Pandemic Recovery", will be held on:
🏷️ Tuesday, October 12th, 2021
– Session I : Political Panel
– Session II : Socio-Cultural Panel
🏷️ Wednesday, October 13th, 2021
– Session I : Economy Panel
– Session II : Diaspora Panel
——————————————
🏷️ Time : 08:30 WIB – End (GMT+7)
🏷️ Location : Zoom Cloud Meeting
🏷️ Registration Link : bit.ly/Regist-AU2021
This event is open to the public and free of charge, participants will get an E-certificate. Feel free to fill out the form above! If you have further questions, please contact Novi (+62) 895-1301-9559
Sampai Jumpa!
#AustraliaUpdate2021
#Strength comes from collaboration
#KBRICANBERRA
#UNAS
#CFAS